Welcome to The Witness Online. For over four decades, Curtis Dickinson, a humble minister serving in America's great Southwest, wrote and published a monthly newsletter called The Witness. Each edition of The Witness offers a succinct and insightful essay on the Christian faith and a selection of pertinent news stories. The theme is often timeless, dealing with issues that have concerned mankind for millennia. Regrettably, the many treasured editions of The Witness have not been in print for years, and, until recently, they could only be found in the private collections of former subscribers. But, today, the past issues have been collected and digitally archived for posterity on this site. Issues of The Witness from January 1963 to Summer (June) 2004 are available as high resolution, searchable Portable Document Format (PDF) files. While it is indeed true that The Witness Online has been established for old friends, this site also seeks to provide Dickinson's written legacy to a new and larger readership. We hope and pray all who visit The Witness Online will be enlightened and blessed.
The Witness Online wishes for you the abiding peace and abundant joy of Christ our Lord and a Happy and Prosperous New Year.
To celebrate the birth of our Lord and Savior, Curtis's wife, Regina, performs O Holy Night and hopes you "keep a song in your heart!"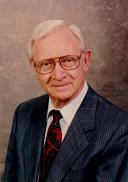 Curtis Dickinson